Current Promotions offered by The Signworks

When it comes to the art of sign making, we've got it covered. We can provide virtually any product imaginable used to direct traffic, ensure safety, or brand your business. Refer a friend or colleague and receive $25.00 off your next purchase of $100 or more! Follow these simple steps:
1. Click on the photo to download the referal form.
2. Complete the form and fax back to us at 650.508.7445 **OR**
3. Complete the form, scan it and email to sales@the-signworks.com and put in the subject line "Refer a Friend Promo"
You will receive a confirmation within 24 hours. If your referal places an order, you will receive a certificate for $25.00 off your next purchase or $100 or more!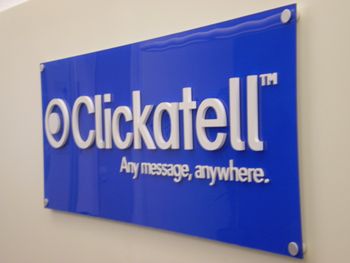 Winter in the Bay Area is a beautiful time of the year. The air is clear, crisp and fresh! Lobby Signs are a great way to bring life to your business or organization. Lobby Signs could be anything from a decorative piece for your office, a large format print, dimensional letters, menu, instructions, ready to apply vinyl and much more.
Lobby Signs not only make your office look great but they also provide information you want your employees or customers to see.
Give your lobby or reception area a crisp and fresh new look for 2022! Click on the "Clickatell" picture to request an estimate for a new lobby sign. Be sure to mark your request "Website Promotion lobby sign" to receive your VIP discount! What is the discount you ask? 15% Yes, 15%! So let's get movin'! This promotion won't last for long!
You may also call us at 650.508.SIGN and speak to any one of our sign experts! We will be happy to come out and do a site survey for you at no additional charge to make sure that we offer you exactly what you need! Happy New Year!