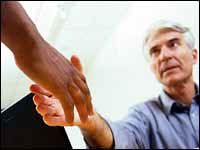 We look for many qualities in the individuals we hire -- the ability to communicate effectively, a high level of organization, strong interpersonal skills, and so on.
Regardless of an applicant's qualifications, we always look for one attribute in particular -- the desire to provide high quality products with excellent customer service. We can train people how to work with clients or run pieces of equipment, but to have passion for customer service and pride for your work takes a unique individual.
If these are qualities you possess, we're sure you'll find a rewarding career with us. We supply our team with the latest technology, afford them the best training available, and provide every opportunity for growth within our company.
Current Openings...
We have 2 production positions open as of 4/6/21. Please see below. Email your resume and cover sheet to manager@the-signworks.com for consideration. We look forward to hearing from you soon!
Sign Maker-Installer / Production – San Carlos
Well established, rapidly growing sign company in San Carlos is looking for a fulltime Sign Maker / Production person with SIGN SHOP EXPERIENCE. We provide quality signs and design to a diverse customer base. Our goal is to provide exceptional customer service by a happy, friendly, cohesive team.
SIGN SHOP AND INSTALLATION EXPERIENCE IS A MUST. Painting, Electrical, woodworking and CNC router experience a plus.
GENERAL DUTIES AND RESPONSIBILITIES:
General sign making duties - i.e. weeding, taping, laminating
Installations both in house and jobsite requiring climbing of ladders, heavy lifting
Maintenance of clean and organized work area
Perform additional tasks as required or assigned
Learning all of our products and services
APPLICANT MUST DEMONSTRATE:
Ability to organize tasks, determine priorities and attention to detail
Ability to work independently and occasionally alone in the shop
Supportive attitude in assisting the team with all aspects of the business
Must be an organized, independent worker with good time management skills
MINIMUM QUALIFICATIONS AND REQUIREMENTS:
This is a PC based shop. The applicant will preferably be computer literate i.e. using the internet and Microsoft Office products. The applicant must be fluent in the English language - including spelling, grammar and punctuation, and be able to proofread. Basic math skills are a must. The applicant must also have a valid driver's license.
Work Hours: Monday - Friday 8:30AM to 5:00 PM.
Subsidized benefits include Kaiser Health Insurance, holiday and vacation pay.